Embracing the Future: Exploring New Roofing Trends with a Top Roofing Contractor in Des Moines — Robison Roofing is in the forefront of embracing fresh and cutting-edge trends in the roofing industry as the top roofing contractor in Des Moines. We constantly work to deliver top-notch services to our clients, whether it be through eco-friendly solutions or cutting-edge technology. We'll look at some of the newest roofing trends that are reshaping the market in this blog, as well as how our Des Moines roofing company is setting the standard.
Sustainable Roofing Materials: A Green Revolution
Sustainability has risen to the top of homebuyers' priorities in recent years. People are actively looking for roofing materials that are energy- and eco-efficient due to rising environmental concerns. As a roofing company in Des Moines, Robison Roofing is pleased to provide a variety of environmentally friendly choices, including solar roofing, cool roofs, and recycled materials. These cutting-edge decisions not only lessen our carbon footprint but also significantly lower long-term costs for our clients.
Smart Roofing Systems: Technology Meets Functionality
The technology of roofing has advanced significantly in the age of smart homes. We recognize the value of incorporating technology into our services as a forward-thinking roofing contractor in Des Moines. We provide intelligent roofing solutions that effectively control temperature, monitor the state of the roof, and find leaks. Through their cellphones, homeowners can now stay informed about the condition of their roofs, making roof care more practical and available.
The Rise of Durable and Impact-Resistant Roofing
A increasing need for impact-resistant roofing materials is being observed by roof repair company in Des Moines like Robison Roofing. These roofs are made to withstand harsh weather, like hailstorms and strong winds, for increased durability and security. Homeowners may rest easy knowing their roofs are better prepared to take whatever Mother Nature throws their way by installing impact-resistant roofing.
Energy-Efficient Roofing: Savings and Sustainability Combined
As energy costs continue to rise, residential roofing companies in Des Moines are witnessing a surge in demand for energy-efficient roofing options. Cool roofs, for instance, reflect sunlight and absorb less heat, reducing indoor cooling costs significantly. Furthermore, our roofing company in Des Moines offers innovative insulation solutions that optimize energy efficiency, keeping homes comfortable throughout the year while reducing energy consumption.
Green Roofing: A Touch of Nature
Green roofs are the ideal answer for homeowners who want to build a sustainable sanctuary. We have enthusiastically embraced the green roofing movement as an eco-conscious roofing contractor in Des Moines. Vegetation covers green roofs, which not only improves the property's beauty but also enhances biodiversity and air quality. Additionally, green roofs are great insulators that control inside temperature and save energy.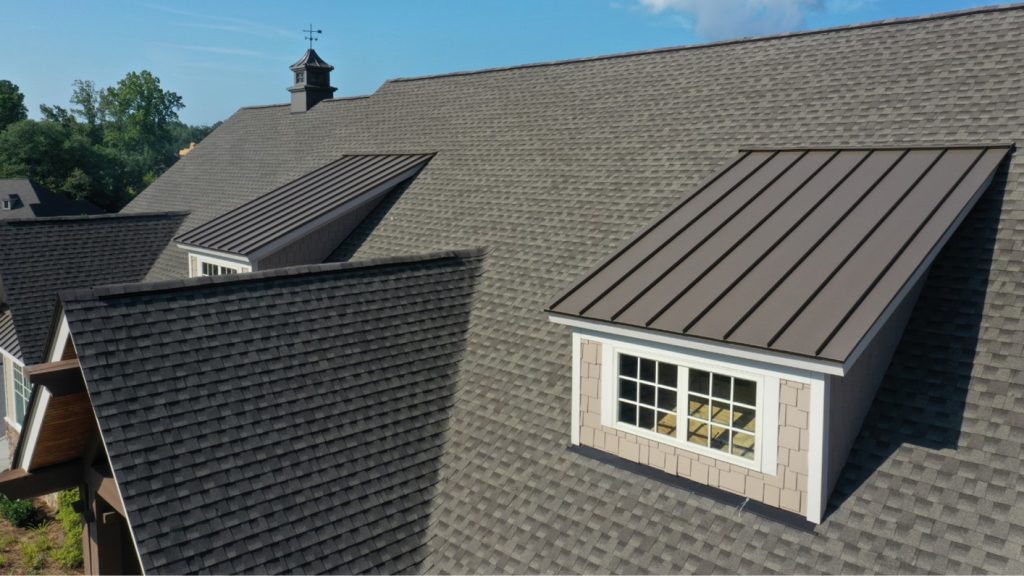 Metal Roofing: A Modern Aesthetic with Longevity
It's simple to understand why metal roofing has experienced such growth in popularity in recent years. We provide a variety of metal roofing alternatives as a Des Moines roofing company that places a high importance on both design and toughness. These roofs offer great lifespan in addition to a wide range of colors and finishes to complement any building style. Metal roofs are a wise choice for homeowners searching for a long-lasting roofing solution because of their lifespan of 50 years or more.
Roofing with Enhanced Wind Resistance
Des Moines is no stranger to strong winds and severe weather events. To address this concern, we provide cutting-edge roofing materials designed to withstand the harshest winds. Impact-resistant shingles, durable underlayment, and proper installation techniques ensure that your roof remains steadfast during storms and protects your home and family.
The Emergence of 3D Roofing Design
It can be difficult to picture how a new roof would look on your house. But the advent of 3D roofing design has completely changed how homeowners approach roofing projects. You may virtually view your home with various roofing materials and styles thanks to our sophisticated software, which makes it simpler for you to decide on the ideal roof for your property.
Green Initiatives and Roofing Incentives
In order to advance sustainability and lessen our influence on the environment, we actively participate in green projects as a responsible roofing company in Des Moines. We keep abreast of regional and national incentives that entice homeowners to spend money on environmentally friendly and energy-efficient roofing options. These incentives provide homeowners wishing to replace their roofs financial benefits in addition to environmental benefits.
Collaborative Roofing Solutions: From Concept to Completion
At Robison Roofing, we believe in fostering strong relationships with our clients throughout the roofing process. Our team of experienced professionals collaborates closely with homeowners, discussing ideas, offering expert advice, and customizing roofing solutions to suit individual needs. From concept to completion, we keep homeowners informed and engaged, ensuring a smooth and satisfying roofing experience.
As a reputable roofing contractor in Des Moines, our commitment to quality, sustainability, and customer satisfaction is unwavering. We take pride in transforming homes and enhancing their beauty, functionality, and resilience. Whether you need roof repairs, replacements, or are interested in exploring the latest roofing innovations, Robison Roofing is your go-to company.
Whether you're in need of roof repairs, replacements, or want to explore the latest roofing trends, Robison Roofing is your go-to residential roofing company in Des Moines. Trust our expertise and experience to protect your home and family with top-quality roofing solutions that embrace the future of the industry.
We Are Your Roofing Contractor in Des Moines
At Robison Roofing, we are your trusted source for commercial roof repair in Des Moines. We provide fast and professional service for every kind of roof. Our team of professionals is here to service your roof from start to finish; we even provide residential roof repair in Des Moines.
For a free estimate on your next project, call us at 515-882-2200.
Robison Roofing is committed to providing you with the best options for your roof system and design. We approach every roofing project with a focus on functionality, cost, and aesthetics. Each project is handled with unique perspective and integrity. Ingenuity and an eye for solutions make Robison Roofing, a roofing contractor in Des Moines the obvious choice for residential, agricultural, commercial, and industrial roofing systems.