Building Contractor in Marion
If you are looking for a building contractor in Marion that you can trust, look no further than Robison. We are a leading residential and commercial contractor in Marion as well as the entire Eastern Iowa region. We proudly serve communities like Iowa City, North Liberty, Cedar Rapids, Tiffin, and Mount Vernon, just to name a few. 
Robison is your source for a wide variety of building types. Our projects include commercial buildings, metal building construction, post frame buildings, pole barns, garages, storage units, and much more. If you are looking for a new structure for your business or residence, give us a call at 319-363-0100. We'll put you in touch with an experienced building and commercial contractor in Marion today. 
Our knowledgeable staff has over 150 years of combined managerial and contractor experience in roofing and construction. Very few companies in Marion can offer this kind of expertise. If you need a reliable building contractor for your next big project, the choice is clear. Choose the quality and service of Robison, a premier building contractor in Marion. 
Download to Learn More About EPS Energy Efficient Buildings
Metal Building Construction in Marion
Metal buildings are one of the most versatile structures being built today. They can be built for residential, commercial, industrial, or agricultural use. Most metal buildings can be customized to fit each client's individual needs. There are various sizes to choose from and endless features that can be implemented into the building design. 
At Robison, we'll work closely with you to make sure you get the building that best fits your needs. We specialize in metal building construction and design in Marion. Our years of experience will be a valuable asset in making sure your new building fits all the necessary specifications.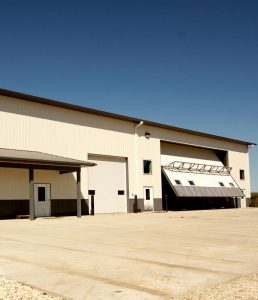 Post Frame Buildings in Marion
Our building experts at Robison also specialize in post frame structures. Our post frame builders in Marion use a construction technique where posts are embedded into the ground and are attached to trusses which provide support for the entire structure. This is a common construction method used to build horse arenas, large warehouses, and industrial facilities. 
As a leading post frame builder in Marion, our crews will ensure your post frame building is the proper size and designed to fit your needs. Whether your post frame building is for your residential or commercial property, our building experts will make sure it's built with the utmost precision and quality. 
Pole Barn Builders in Marion
Pole barns are an essential piece of any agricultural property. They are used to store supplies, tools, livestock, valuable farm equipment, and many more important items. Our pole barn builders in Marion can help design and construct the perfect pole barn for your property. We will work with you to make sure you choose the right design, layout, colors, and materials for your new pole barn. 
Since 2008, Robison has been Eastern Iowa's leader for quality pole barns, post frame buildings, and metal building construction. If you are ready to add one of these structures to your property in Marion, give us a call today at 319-363-0110. 
Download to Learn More About EPS Buildings for Ag Operations
Your New Home — Love It
More With EPS Buildings!
Are you looking to build a new home that provides the custom, creative design you wish for along with the use of the latest in building technology?
Robison is an authorized dealer for Energy Panel Structures, a company that engineers and manufactures Structural Insulated Panels (SIPs), which are quickly becoming the desired choice for a lifetime of value and comfort.
When it comes to design, all you need to do is share your idea of a dream home. High ceilings, lofts, large door and window openings — if you can dream it, we can build it. EPS can manufacture SIP panels in different variations to accommodate the desired R-Value performance as well as accommodating individual, unique designs that give you the freedom to have your new home built your way. The interior and exterior of SIP homes can be finished in any variety of ways including drywall, vinyl siding, or brick.
As an authorized EPS dealer, Robison can help make your dreams come true — whether it is for a single-family home, multi-family complex, or a dream cabin. Energy Panel Structures offers multiple EPS Original plans. Take a look and find one you'll fall in love with!
What Are Structural Insulated Panels (SIPs)?
EPS manufactures high-performance, sustainable homes made with Structural Insulated Panels (SIPs). They manufacture the roof trusses, roof panels, floor trusses, basement panels, and completely engineered building shells. These buildings are superior in both energy efficiency and long-term durability. SIP homes use insulated wall and roof panels that are up to 15 times more airtight than traditional construction, resulting in more comfort and long-term durability.
A new home built with structural insulated panels reduces air movement, drafts, moisture, and noise and helps keep dust and allergens from penetrating. A SIP home can also be constructed faster and with less labor because the insulation, framing, and sheathing are combined into one panel at the EPS manufacturing facility.
An EPS SIP home package combines building science with high-performance products to create a new home that is environmentally friendly yet offers the comfort and conveniences a homeowner wants. An ENERGY STAR-qualified home will also receive a certificate showing the home energy rating (HERS). The lower a home's HERS Index, the more energy efficient it is.
EPS is the nation's largest SIP manufacturer with nearly 40 years of experience. You get the advantage of years of experience coupled with the expertise of your local EPS dealer who has been specifically trained in SIP construction.
Download to Learn More About EPS Homes and Shouses