#1 Roof Repair Company in Iowa City:Protecting Your Home from Damage with A New Roof in Iowa City—Any experienced roof repair company in Iowa City knows that your roof is the superhero cape of your house. That roof bravely battling the elements day in and day out. Now, even superheroes need a little extra love now and then right? Well, your roof is no different! Surprisingly, many folks treat their roofs like that old high school yearbook – out of sight, out of mind. At Robison Construction, our roof repair company in Iowa City says pay attention though because unnoticed leaks can turn your cozy haven into a damp disaster movie set in no time.
So, let's avoid the drama (and a dent in your wallet) by giving your roof the attention it deserves. With a simple annual check-up from a trusty  roof repair company in Iowa City (hint: we know a great one called Robison), you can ensure your home's superhero is in tip-top condition, ready to save the day from the dastardly downpours and wicked winds.
Why is a Healthy Roof So Important?
Roof Repair Company in Iowa City: A New Roof in Iowa City Increases Your Home's Value.
Your roof is a massive part of protecting your home. It shields away outdoor elements like rain, snow, ice, sleet, and hail. A roof is expensive to replace, so having a roof repair company in Iowa City put in a new roof is a huge perk for buyers that are looking at homes.
Roof Repair Company in Iowa City: Your Roof Protects the Interior of Your Home.
Our roofing company in Iowa City recommends that if you have ever had a leak or a flooding roof, you will never forget it. Water that leaks into your home can ruin everything in its path. If water can leak into your home's interior, it can ruin your drywall, ceilings, furniture, and other valuable items in your home. Often these items must be replaced entirely, like electronics and furniture. If water has leaked into your walls and ceilings, it's likely that a contractor will need to tear out these areas of your home completely and redo them.
It often isn't as simple as letting it dry out because one tiny mold spore can spread quickly. Once mold occurs, it usually takes a professional to get rid of it fully. Mold removal needs to be done by a professional to avoid exposure to dangerous air that can cause health issues if inhaled. This can be very costly to the homeowner, not to mention, the massive inconvenience that it causes.
A roofing company in Iowa City recommends that if it's a slow leak that was caused by a hailstorm and you are unaware of it, that leak can eventually grow into a mold issue that can be both dangerous to your health and cause more extensive damage than what appears. Therefore, it's essential to call roof repair company in Iowa City right away after a storm, even if you don't see any large signs of wear and tear.
Roof Repair Company in Iowa City: A New Roof in Iowa City is Energy Efficient
Making sure your roof is both ventilated properly and insulated is very important. Having an excessive amount of heat with no ventilation can be damaging to your home. When humidity and moisture build up with nowhere to go, it can begin to degrade the wood and the structure holding up your roof.
The best roofer in Iowa City can easily spot an issue with your ventilation and fix it. This is just like insulation in that it can keep warm air inside in the winter and cool air inside in the summer. Good insulation can save you a ton of money.
It's important to view your roof as a system of your home. The roof itself is important, but other parts of the roofing system must be in great shape for it to do its job. A roof repair company in Iowa City explains how important a guttering system is to the whole operation.
Your gutters attach to the bottom of your roof to catch the water that drains off the roof and redirect it away from your home. If your gutters are full of debris, then water sits at the base of the roof, causing issues like mold and wood rot. This means your roof will begin to leak and degrade over time, which can damage the home's interior and exterior.
Make sure that your gutters not only drain but also redirect the water far enough away from your home's foundation that it protects the area around your home. Many people make the mistake of not draining the water at least 5 feet from the foundation.
It's important to notice warning signs that your roof might have issues. This is a great time to call a roof repair company in Iowa City right away. 
Common warning signs of a damaged roof include:
Cracked, curling, or missing shingles
Moss or mold growing on top of your roof
Missing or cracked caulking
Cracked, rusted, or missing flashing around your fireplace chimney
Broken or clogged gutters
Water stains on the interior or exterior of your home
The age of your roof matters, if your roof is over 15 years old it may need replaced regardless of if you see signs of damage
Your roof is the protector of your home and all its contents. Don't let this happen to your home. Make sure and have a regular checkup done on your roof about once a year to ensure that your roof is healthy and doing its job of protecting your home.
At Robison Construction,
We Stand Behind Our Word and Our Work!
At Robison Construction, we are your trusted source for commercial roof repair in Iowa City. We provide fast and professional service for every kind of roof. Our team of professionals is here to service your roof from start to finish, we even provide residential roof repair in Iowa City. We are also a metal building contractor in Iowa City.
For a free estimate on your next project, fill out an online form here or call us at 319-363-0110.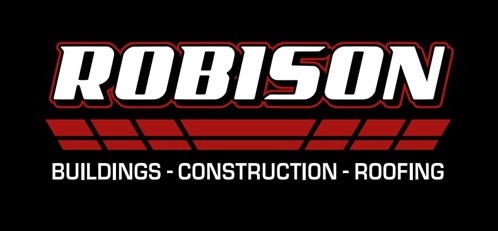 Robison Construction is committed to providing you with the best options for your roof system and design. We approach every roofing project with a focus on functionality, cost, and aesthetics. Each project is handled with unique perspective and integrity. Ingenuity and an eye for solutions make Robison Construction the obvious choice for residential, agricultural, commercial, and industrial roofing systems.