5 Devastating Signs Your Roof is Near Collapse According to a Top Roofing Company in Mount Vernon—As a homeowner, it's important to know that your roof can collapse. This can become a costly and time-consuming problem. So, it's important to know the warning signs before your roof caves in. At Kings Roofing, we are a leading roofing company in Mount Vernon and want to help you avoid this problem. So, we've compiled the most common indicators that your roof might collapse.
Contact one of the most trusted roofing companies in Mount Vernon if you notice any of the following:
As a longtime roofing company in Mount Vernon, we know that one of the most common indicators of roof collapse is sagging. It is often a sign of neglecting your roof and needs to be repaired immediately.
Sometimes, just portions of the roof sag and that can happen over a long period instead of all at once. If you notice your roof is sagging, contact a roofing company in Mount Vernon immediately.
Cracks on the outside of your roof are indicators that damage is present. It can also mean that your roof is about to collapse. After a large storm, take a quick look at your roof to see if you notice any cracks.
Cracks inside of your home are often the first noticeable signs of a roof collapse. Look for cracks in your ceiling and walls. Problems with the roof or the actual foundation of your home can cause these cracks, both of which can lead to your roof caving in.
If you notice cracks inside your home, contact one of your local roofing companies in Mount Vernon for assistance.
Water leaking through your ceiling is an obvious sign of damage. This indicates that there is water buildup under your shingles, causing your roof to decay. If this problem goes unchecked for too long, your roof could suffer structural damage and collapse in on itself.
It's crucial to locate the source of the leak immediately and hire a roofing company in Mount Vernon to repair any structural damage. This reduces the risk of your roof collapsing.
Missing shingles commonly occur after severe weather rolls through the area. Extreme winds can rip the shingles off of your roof, leaving it exposed to water damage.
If you notice any missing shingles or any other damage after severe weather, contact one of the top roofing companies in Mount Vernon, like Robison, immediately.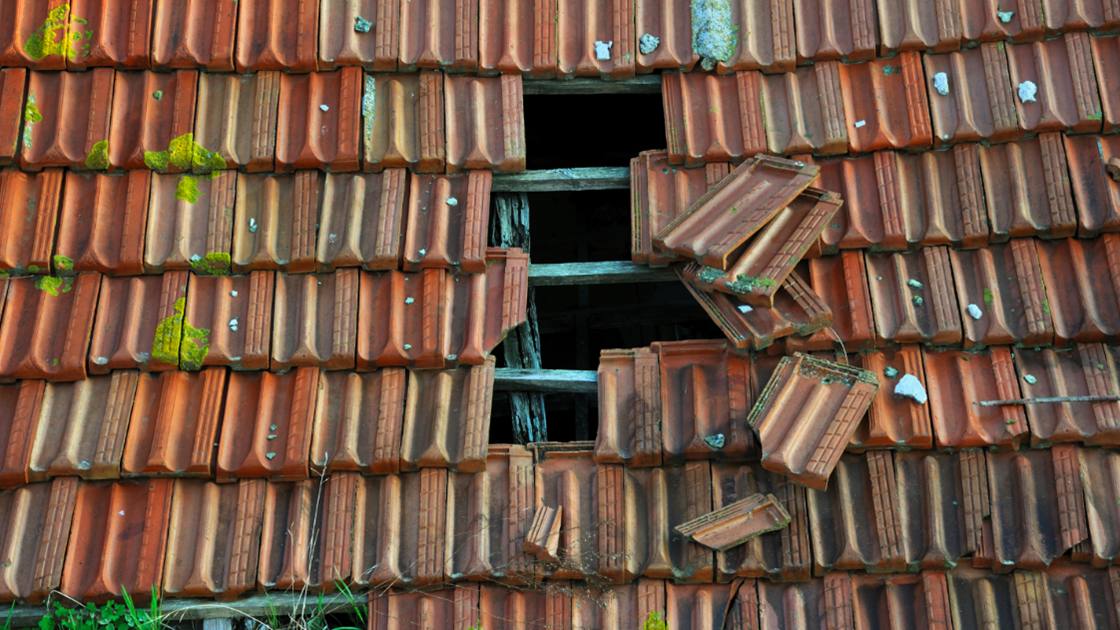 Roofing Company in Mount Vernon–Trouble Opening Windows or Doors
One thing you might not have known is that your windows and doors can indicate a roof collapse. If you have trouble opening and closing your windows or doors, it could be a sign of structural shifting. Structural shifting can happen to your roof and/or your home's foundation.
Call a roofing company in Mount Vernon to check for roofing problems if you are experiencing issues with your windows.
At Robison,
We Stand Behind Our Word and Our Work!
At Robison, we are your trusted source for commercial roof repair in Mount Vernon. We provide fast and professional service for every kind of roof. Our team of professionals is here to service your roof from start to finish, we even provide residential roof repair in Mount Vernon. We are also a metal building contractor in Mount Vernon.
For a free estimate on your next project, fill out an online form here or call us at 319-363-0110.
Robison is committed to providing you with the best options for your roof system and design. We approach every roofing project with a focus on functionality, cost, aesthetics. Each project is handled with unique perspective and integrity. Ingenuity and an eye for solutions make Robison the obvious choice for residential, agricultural, commercial, and industrial roofing systems.