30 Informative Facts and Pieces of Advice from a Trusted Roofing Company in Cedar Rapids — It doesn't take an experienced roofing company in Cedar Rapids to know that any building structure must have a roof because it protects us from the weather and improves the aesthetic appeal of our homes. However, it's also a challenging area with specialized terminology, a range of supplies, installation techniques, and upkeep guidelines. Unfortunately, a lot of homeowners are frequently in the dark regarding these nuances, which can cause misunderstandings and expensive errors.
Roofing companies in Cedar Rapids say there are many more factors to take into account in addition to choosing the appropriate shingles and hiring a roofing contractor in Cedar Rapids within your budget. Knowing about these things might help you avoid problems later on; from comprehending the subtle indicators of roof damage, to managing insurance claims, to appreciating the value of selecting locally based contractors.
Furthermore, it's crucial to avoid a residential roofing company in Cedar Rapids who might bribe customers for positive ratings or who smoke while working. This blog tries to educate readers on 30 roofing-related topics. These tips will give you the confidence you need to successfully complete your next roofing project, ensuring that you get your money's worth, and increase the lifespan of your roof.
So, read on as the best roofer in Cedar Rapids explores these frequently disregarded yet vital aspects of roofing.
Mismatched Shingles: Mismatched shingles can detract from the aesthetic appeal of your home and are a frequently disregarded problem. Mismatched shingles may not simply be a cosmetic concern; they may also be a sign of a hastily completed or subpar job, raising the possibility of future problems. For instance, the shingle could fail to seal properly, causing leaks. Inadequately matched shingles might also shorten the life expectancy of your roof. For consistent quality and appearance, it is vital to make sure your roofing company in Cedar Rapids uses matching shingles.
Managing Your Claim: While it may seem handy, it's not always a good idea for roofing contractors to manage your insurance claim. This is because the roofing contractor in Cedar Rapids can put their profit ahead of your interests, which could generate conflict with your insurance provider. Furthermore, giving up control over the process implies you are giving up your claim. It's better to handle your own claim since it gives you the freedom to keep educated and decide what is in your best interests.
A Roofing Company in Cedar Rapids Says Roof Damage is Not Always Obvious: Roof damage doesn't usually show itself in apparent ways. Small leaks or moldy areas can occasionally go undiscovered until they develop into bigger issues. For early detection of these silent symptoms and harm mitigation, routine inspections are essential. By keeping a constant check on the state of your roof, you can fix problems as soon as they arise and avert more expensive repairs in the future.
Bribery for Evaluations: Regrettably, some roofing companies in Cedar Rapids use unethical tactics like paying clients in exchange for favorable evaluations. As a result, a false impression of their services may be created, which means their subpar work will be hidden behind positive reviews. Before hiring a roofer, it's crucial for homeowners to look beyond these ratings and conduct extensive research. Seek honest, unbiased comments and base your decision on those.
Smoking at Work: A roofing company in Cedar Rapids knows that in any industry, professionalism is essential, and roofing is no exception. Smoking while working is not only unprofessional for roofers but also dangerous, especially if they are handling flammable chemicals. It's crucial to work with a group that values a secure and orderly workplace and respects your property.
Roofing Jargon: Being familiar with the residential roofing company in Cedar Rapids' slang will make it easier for you to complete your project. Common terms include "square," which refers to a measurement that equals 100 square feet on a roof. By being familiar with these words, you may communicate with your roofer more effectively and make sure you're getting what you need.
Profitable Trade: Roofing can be a lucrative business, particularly in light of the expensive materials used and the favorable credit terms provided by suppliers. This should not, however, degrade the caliber of the work that is produced. Always be sure the service you get from roofing companies in Cedar Rapids is of the highest caliber and that you are receiving a reasonable quote for the project.
Choose the Best Roofer in Cedar Rapids: Don't only go with your instincts or rely on recommendations when picking a roofer. Find the answers to important items, such as how long they have been in operation and whether they are a local company. Such questions can reveal important information about their expertise, dependability, and comprehension of regional building and roofing codes.
Selecting a Roofing Contractor in Cedar Rapids: Choosing a roofing contractor is a choice that has to be carefully thought out. You should ask them about their background, the guarantees they provide, and customer references.
Business location: The quality of the service you receive from a roofing company is significantly influenced by its location. As a local residential roofing company in Cedar Rapids, we are better able to comprehend regional aspects that may affect the caliber and endurance of your roof, such as local building codes, weather patterns, and other regional considerations.
Hidden Fees: Some roofing companies in Cedar Rapids may neglect to reveal all fees up front, leading to additional fees that were not anticipated. Always request a thorough price that covers all potential costs to prevent this. This can help you create an accurate budget by giving you a clearer idea of the overall cost.
Insurance and license: You may be at danger because not all roofing companies in Cedar Rapids have the required insurance and licensing. To avoid any culpability in the event of mishaps or damage during the roofing process, always double check this information.
Outsourcing: Be careful that some roofing companies in Cedar Rapids outsource their work, which might result in inconsistent quality. Knowing who will be doing the actual work on your roof will assist in guaranteeing that it is done correctly and according to your standards.
Information About the Warranty: A roofing company in Cedar Rapids will offer a different warranty. Some only include certain labor or material costs, which can be costly for homeowners. This means they will have to pick up the tab to cover roofing damages when the occur. To fully understand what is and isn't covered by a warranty, always read the fine print. Some roofing companies in Cedar Rapids fail to point out that routine maintenance can considerably increase the longevity of your roof. Regular checks and small fixes can help identify potential problems early and avert more expensive replacements in the future. To keep your roof in top shape, be sure to arrange frequent inspections.
Roofing is Seasonal: Although roofing can be done at any time of the year, late spring or early fall are the ideal times to have your roof installed or repaired. The weather is often pleasant and less likely to interfere with work during these seasons. This lessens the possibility of weather-related damage during installation or repair.
Not Every Material Is Made Equal: A residential roofer in Cedar Rapids knows that there are many different types of roofing materials, including metal panels and asphalt shingles. Our team at Robison knows that not all of them provide the same level of toughness or beauty. Your material selection should be influenced by the weather where you live, your home's design, and your financial situation.
Good Ventilation is Essential: Your residential roofer in Cedar Rapids knows that roofs needs proper ventilation if you want to keep it in good condition. Without the proper ventilation, heat and moisture can cause havoc in your attic. At Robison, we know that these conditions often result in roof damage which shortens the life of the roof. Your home's energy efficiency will also be increased by having a well-ventilated roof.
Your Issues Won't Always be Resolved by a New Roof: A new roof alone won't always solve your problems. The underlying structural issues might not be resolved by merely replacing the roof. To find any potential problems, a comprehensive check by an experienced roofing company in Cedar Rapids is recommended.
There is More to Roofing Than Shingles: Your roof needs more than just shingles, but they are an important part. Your home's defense against the elements also depends on other components including underlayment, flashings, and gutters.
Roofs Require Routine Upkeep: Like any other component of your house, your roof needs routine upkeep to remain in good condition. This includes clearing the gutters, inspecting them for deterioration, and scheduling routine expert inspections.
All Roofing Companies in Cedar Rapids Are Not Created Equal: Your roof's quality is mostly determined by the best roofer in Cedar Rapids' expertise and experience. So, it's crucial to do your research and pick a reliable roofing contractor. Before making a choice, look into licensure, insurance, and client feedback.
Not All Roof Repairs Are Visible: Some roof damage is difficult to see from the ground. Small leaks or missing shingles, for instance, could not be apparent without a detailed check. Schedule regular roof inspections in light of this.
Replacing Your Roof Might Increase Your Home's Value: Your home's price tag may jump up a few levels with the addition of a new roof from a roofing company in Cedar Rapids. Our team at Robison knows that a new roof boosts the property's exterior appeal and reassures potential buyers that the roof is in good shape.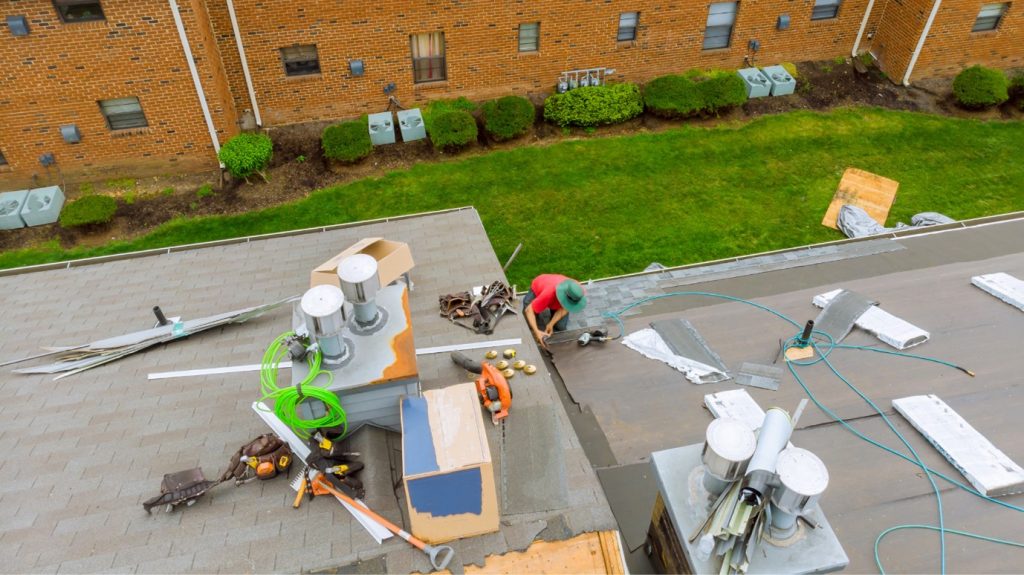 The Energy Efficiency of Your Home May Be Affected by Roofing Materials: As a well-known commercial roofing company in Cedar Rapids, Robison knows the efficiency of your home may be significantly impacted by the roofing materials you choose. For instance, "cool" or light-colored roofs reflect more sunlight, keeping your home cooler in the summer. Darker roofs, on the other hand, may increase the temperature of your home by absorbing heat. You can also talk to a metal roofing company in Cedar Rapids, like our team at Robison, for advice on different kinds of roofs.
All Roof Damage May Not Be Covered by Insurance: Your homeowner's insurance may not cover all forms of roof damage. Our team at Robison knows that every insurance policy is unique. For instance, harm resulting from carelessness or poor maintenance is typically not covered. Be sure you properly read your insurance and comprehend what is and isn't covered.
Warranties from a Building Contractor in Cedar Rapids May Be Complicated: The exclusions and limits in roofing warranties can be many and convoluted. They normally cover material or installation flaws, but they could not cover harm from extreme weather or poor upkeep.
DIY Roofing Is Dangerous: While it may be tempting to perform roofing work on your own to save money, it may be unsafe and may wind up costing more overall if done incorrectly. A commercial roofing company in Cedar Rapids is equipped with the knowledge and tools needed to do tasks in a secure and efficient manner.
The Look of Your Home Can Be Improved With the Right Roof: A metal roofing company in Cedar Rapids know that a roof can significantly improve your home's cosmetic appeal in addition to serving a functional purpose. You may select a roof that matches the architectural and color scheme of your home thanks to the broad variety of styles and colors that are available.
Roofing Scams Are More Common Than You Think: Any roofing company in Cedar Rapids should know that the roofing sector is not immune to cons and fraudulent practices. These can range from a roofing contractor in Cedar Rapids that advertises exceptionally inexpensive pricing but provides work of mediocre quality; to those who take your money but never finish the job the residential roofing company in Cedar Rapids was hired to do. It is crucial to exercise caution around discounts that appear too good to be true, and you should constantly examine the references and reviews of a roofing company in Cedar Rapids. It is also risky to pay for something in advance; as an alternative, you should establish a payment schedule that corresponds with the level of completion of the work. Keep in mind that a competent roofing contractor in Cedar Rapids will never put you under any kind of pressure to make a decision quickly or pay anything ahead of time.
Roofing Materials Have a Shelf Life: No matter how well you take care of your roof, it won't be able to withstand the test of time. The lifespan of a typical roof might range anywhere from 15 to 50 years, depending on the material that was used to construct it. For example, asphalt shingles have a lifespan of approximately 20 years, whereas metal roofing might have a  lifespan of up to 50 years. Performing maintenance on your roof with a residential roofing company in Cedar Rapids on a routine basis can help extend its lifespan, but at some point, it will need to be replaced. If you are aware of this fact, you will be better able to plan for the expense and avoid any unpleasant surprises.
In conclusion, the roofing system of a house is a complicated and essential component of the home's upkeep, which calls for careful consideration and constant attention. Homeowners need to be proactive and informed about a variety of topics, including understanding the significance of properly matching shingles and being able to identify the subtle indicators of roof degradation.
As and experienced roofing company in Cedar Rapids, Robison reminds you of the importance to personally managing insurance claims and be mindful of unethical actions such as bribing for positive evaluations. Remember that communicating effectively with a Cedar Rapids home roofer requires both professionalism and a thorough understanding of roofing terminology. Hiring one of the many professional roofing companies in Cedar Rapids can be rewarding for customers, as long as that company offers the right set of skills. In the end, your roofing company should not let profits take away from the quality of their work.
The selection of roofing companies in Cedar Rapids is not something that should be rushed, and it is important to be aware of the ramifications that the location of a business might have. Always double check the terms of your insurance and licensure, and keep an eye out for any hidden expenses. Subcontracting might result in inconsistent work; so it is very smart to thoroughly grasp all warranty details before beginning.
A roof that receives routine maintenance from a roofing company in Cedar Rapids can have its lifespan greatly extended, which will save the homeowner money on costly replacements in the future. Being well-informed about the various roofing options available to you and taking an active role in the maintenance of your roof can, in the end, save you time, money, and stress over the course of the project.
We Are Your Roofing Company in Cedar Rapids 
Since 2008, Robison, a roofing company in Cedar Rapids has met the roofing requirements of its devoted customers. Many of our clients consider us the best roofer in Cedar Rapids, because we offer first-rate roofing services throughout Eastern Iowa, including the Des Moines region. Robison uses the best products for every roofing job, so you can expect high-quality service and peace of mind. Each client should be aware that they are dealing with a top-tier residential roofing contractor in Cedar Rapids.
Our Cedar Rapids roofing company is made up of seasoned, dedicated people with a wealth of roofing knowledge in Cedar Rapids, Des Moines, and Eastern Iowa. Our team has a total of more than 150 years of leadership expertise in the roofing sector. We are a well-known commercial roofing company in Cedar Rapids thanks to our leadership and dedication to producing top-notch work. 
The success of Robison is directly related to our clear vision, superior customer service, and unwavering integrity. We proudly serve numerous other communities throughout Eastern Iowa, including Iowa City, Cedar Rapids, North Liberty, Mount Vernon, Tiffin, Marion, and many others, while also playing a significant role in the Des Moines region.
Robison is available to help if you're seeking the top residential roofing repair in Cedar Rapids.
Call us at 319-363-0110 right now or fill out a form here.