A Roofing Company in Des Moines Discusses New Roofs  —Having a healthy roof is essential to the health of your home. It is common for people to go years without checking on their roofs. This is a significant mistake because leaks can cause thousands of dollars of damage in a matter of minutes. Therefore, having a roof repair company in Des Moines check up on your roof at least once a year can save you money and avoid a long list of problems in the future.
A healthy roof not only safeguards your Iowa home from the elements but also contributes to its overall structural integrity. Neglecting regular Iowa roof check-ups can lead to issues that go unnoticed until they escalate into severe problems, compromising the safety and comfort of your home. These problems can include:
Mold growth
Structural damage
Potential health problems for those living inside
A qualified roof repair company in Des Moines will have the expertise and equipment to thoroughly inspect your roof for any signs of damage or wear. They can identify potential problem areas that may not be visible to the untrained eye, such as small cracks or loose shingles. Moreover, a roofing company in Des Moines can assess the overall condition of your roof and provide appropriate maintenance or repair solutions.
By scheduling regular inspections with a trusted roofing company in Des Moines like Robison, you're investing in the longevity of your roof and, by extension, your Iowa home. This proactive approach can help detect issues early, allowing for timely repairs by a  roof repair company in Des Moines, that are typically less costly than extensive damage remediation.
Additionally, regular roof maintenance with a roofing company in Des Moines can improve the energy efficiency of your home by ensuring proper insulation and ventilation, which can lead to lower utility bills. Lastly, a well-maintained Iowa roof enhances the curb appeal of your house, potentially increasing its market value. So, remember, an annual check-up of your roof with a roofing company in Des Moines isn't an unnecessary expense; it's a wise and essential investment in your home's future.
Why Is a Healthy Roof So Important?
A New Roof in Des Moines Increases Your Home's Value.
Your roof is a massive part of protecting your home. It shields away outdoor elements like rain, snow, ice, sleet, and hail. A roof is expensive to replace, so having a new roof in Des Moines is a huge perk for buyers that are looking at homes.
Not only is it a key selling feature, but it will increase your home's value significantly, depending on the size of your home. If you are looking at selling your home soon and want to impress your buyers, call a Des Moines roofing company to replace your roof and better your chances of selling it at top value.
Your Roof Protects the Interior of Your Home.
If you have ever had a leaking or a flooding Iowa roof, you will never forget it. Water that leaks into your home can ruin everything in its path. If water can leak into your home's interior, it can ruin your drywall, ceilings, furniture, and other valuable items in your home. Often these items must be replaced entirely, like electronics and furniture. If water has leaked into your walls and ceilings, it's likely that a roofing contractor in Des Moines will need to tear out these areas of your home completely and redo them.
It often isn't as simple as letting it dry out because one tiny mold spore can spread quickly. Once mold occurs, it usually takes a professional to get rid of it fully. Mold removal needs to be done by a roofing company in Des Moines to avoid exposure to dangerous air that can cause health issues if inhaled. This can be very costly to the homeowner, not to mention, the massive inconvenience that it causes.
If it's a slow leak that was caused by a hailstorm and you are unaware of it, that leak can eventually grow into a mold issue that can be both dangerous to your health and cause more extensive damage than what appears. Therefore, it's essential to call a roof repair company in Des Moines right away after a storm, even if you don't see any large signs of wear and tear.
A New Roof in Des Moines is Energy Efficient
Making sure your roof is both ventilated properly and insulated is very important. Having an excessive amount of heat with no ventilation can be damaging to your home. When humidity and moisture build up with nowhere to go, it can begin to degrade the wood and the structure holding up your roof.
The best roofer in Des Moines can easily spot an issue with your ventilation and fix it. Likewise, insulation can keep warm air inside during the winter months and your air conditioning inside during the summer. Having efficient insulation will save you hundreds, if not thousands, of dollars in electric bills over the life of your roof.
It's important to view your Iowa roof as a system of your home. The roof itself is important, but other parts of the roofing system must be in great shape for it to do its job. One critical component of any Iowa roof is the guttering system, according to a roof repair company in Des Moines.
Your gutters attach to the bottom of your new roof in Des Moines to catch the water that drains off the roof and redirect it away from your home. If your gutters are full of debris, then water sits at the base of the roof, causing issues like mold and wood rot. This means your roof will begin to leak and degrade over time, which means you'll need a roofing company in Des Moines, because it can lead to damage to the home's interior and exterior.
A roofing company in Des Moines says to make sure that your gutters not only drain but also redirect the water far enough away from your home's foundation that it protects the area around your home. Many people make the mistake of not draining the water at least 5 feet from the foundation. If you fail to do so, water can pool around the foundation of your home, causing leaks and pressure damage. It can also negatively affect landscaping, trees, bushes, and flowers near your home.
It's important to notice warning signs that your roof might have issues. This is a great time to immediately call a roof repair company in Des Moines. 
Common warning signs of a damaged roof include:
Cracked, curling, or missing shingles
Moss or mold growing on top of your roof
Missing or cracked caulking
Cracked, rusted, or missing flashing around your fireplace chimney
Broken or clogged gutters
Water stains on the interior or exterior of your home
The age of your roof matters, if your roof is over 15 years old, it may need to be replaced regardless of if you see signs of damage
Our roofing company in Des Moines knows that your roof is the protector of your home and all its contents. When it is in bad shape, it leaves the structure of your Iowa home and the interior contents vulnerable to damage. Don't let this happen to your home. Make sure and have a regular checkup done on your roof by the best roofer in Des Moines about once a year to ensure that your roof is healthy and doing its job of protecting your home.
10 Reminders for New Roofs:
Weather Protection: A new Iowa roof will protect your home from the elements, including rain, snow, wind, and sun damage.
Energy Efficiency: By providing better insulation, a new roof can help reduce energy costs.
Increased Value: A new Iowa roof can significantly increase your home's market value.
Aesthetic Appeal: With various styles and colors to choose from, a new roof can enhance your Iowa home's appearance.
Reduced Maintenance: New roofs require less maintenance and repairs from a roofing company in Des Moines compared to older ones.
Safety Assurance: A new Iowa roof minimizes the risk of leaks and structural damage, ensuring safety for your family.
Health Protection: By preventing leaks and mold growth, a new Iowa roof can contribute to better indoor air quality.
Noise Reduction: High-quality new roofing materials can help reduce outside noise if you hire the best roofer in Des Moines.
Warranty Coverage: Most new Iowa roofs come with a warranty, providing peace of mind for homeowners.
Longevity Guarantee: New roofs typically last longer, meaning you won't have to worry about replacement for many years.
For All Your Roofing Needs, Choose a Des Moines-Based Commercial and Residential Roofing Company
Robison is one of the most reputable roofing companies in Des Moines and Eastern Iowa because of our team of skilled roofers. Regarding the cost, functionality, and aesthetics of roofs, we pay close attention to detail. Our roofing company in Des Moines will put in great effort to design a roofing system that precisely meets your unique requirements. Regardless of the kind of roof you need—residential, commercial, industrial, or agricultural—Robison is your go-to partner.
Our roofing company in Des Moines will answer any questions you may have about various roof types or roofing materials. You may be thinking about asphalt roofing for your rural home or flat roofing for an industrial building in Des Moines.
The best roofer in Des Moines offers the expertise and understanding you need to make well-informed decisions about every facet of your roofing project, regardless of the kind of roof you're interested in. As the best roofing company in Des Moines, we'll make sure you select the finest components and layout for your roofing project.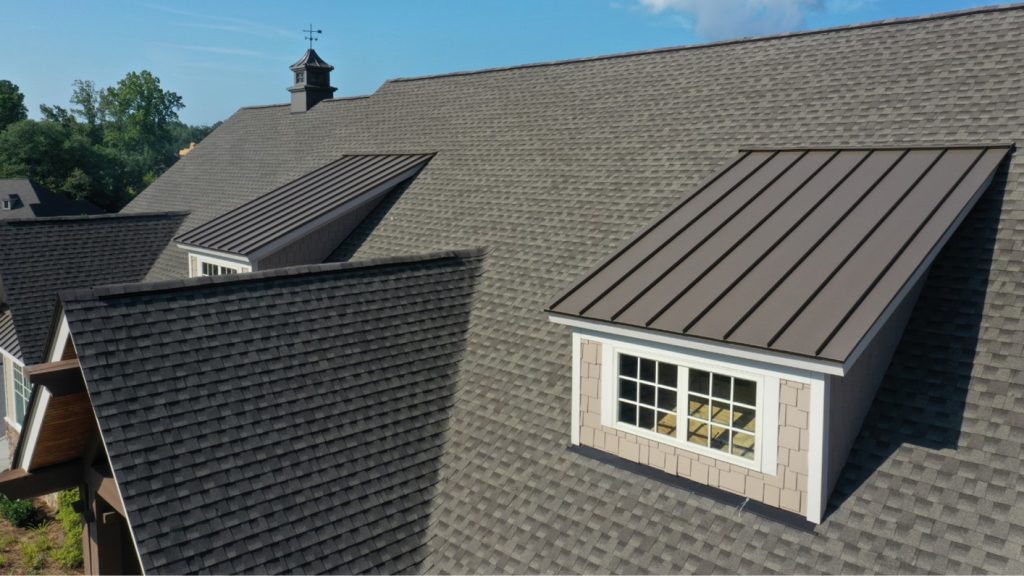 Roofing company in Des Moines: How Many Quotes Should Someone Get on a New Roof?
Minimum Three Quotes: It's recommended to get at least three quotes from different roofing contractors in Des Moines when planning a new roof. This allows you to compare prices, services, and materials offered.
Consider More Quotes: The best roofer in Des Moines knows that for complex or large-scale roofing projects, you should consider getting more than three quotes. This will provide a broader perspective on the market rates and services available.
Quality Over Quantity: While it's important to get multiple quotes from different Des Moines roofing companies, don't focus only on the number of quotes. Prioritize quality and reliability of the Iowa contractors over the number of quotes you receive.
Review Each Quote Thoroughly: Each quote should be reviewed carefully. Look for details about the materials to be used, timeline for completion with a roofing contractor in Des Moines, warranty information, and any additional services included.
Don't Rush Your Decision: Take your time to make a decision about your residential roofing company in Des Moines. The cheapest quote might not always be the best, and rushing could lead to overlooking important details in the quotes.
Follow Up on Quotes: If there are any uncertainties or questions regarding the quotes, don't hesitate to contact your residential roofing company in Des Moines for clarification. This will ensure you fully understand what's included before making a decision on your Iowa roofing company.
A Roof Repair Company in Des Moines You Can Trust
There's never a good time for roofing problems. In fact, it seems like roofing issues always come at the worst possible moment. You quickly get a pit in your stomach when you can visibly spot cracks, drips, and water spots in your ceiling. These are clear signs of a leak that will need to be repaired by a professional roof repair company in Des Moines. That's when you need the expertise of a longtime, dependable roofing company in Des Moines – Robison Roofing.
As a reputable roofing company in Des Moines, we provide free estimates for your roofing projects. No roofing job is too small or too big for us, and our roof repair company in Des Moines is proud to serve our clients in Des Moines and throughout Eastern Iowa. Since 2008, our team of roofing professionals has been providing premium roof maintenance for our customers in many Iowa locations, such as Iowa City, Mount Vernon, Cedar Rapids, North Liberty, Tiffin, Marion, and many other great communities.
As a Des Moines roofing company, our mission is to repair every customer's roof to the best condition possible. Robison's team of roofing experts has more than 150 years of combined roofing leadership in Des Moines and throughout Eastern Iowa; so rest assured, your roof will be repaired by a roof repair company in Des Moines professionals. The best roofer in Des Moines uses the most proven roof repair techniques combined with the highest quality materials. Our crews will quickly diagnose all roofing issues and make the necessary fixes. All repairs will be completed with the utmost efficiency, and as a Des Moines roofing company make sure that your Iowa roof is in perfect working condition before we leave. At a roofing company in Des Moines we spare no details and don't cut any corners at Robison; that's why many consider us the best roof repair company in Des Moines.
Check out these amazing reviews from a few of our loyal clients.
"We had such an amazing experience with this company. We had Jeremy Steward as a project manager and he went above and beyond. Always letting us know exactly what was happening and when it would be done. Talked to our insurance company to get the funds for our repairs. Now our house looks brand new. Such a great team to work with!"
-Annie W
"Our condo association had Robison Construction re-roof our building. We are all so happy at the job they did, their attention to detail, the competitive price, how hard they all worked ad especially, how conscientious all of the employees were at picking things up throughout and at the end of each the day. Way to go, guys!!"
-C Frazee
"Robison put a new roof on my house in 2017. I had one minor issue with a piece of decorative stone loose after the crew was done. Robison took care of it ASAP without questioning it and even took the time to match the grout perfectly. Fast forward a few years when the derecho hit, I had about 10 roof caps that needed replaced…even though they were swamped they sent a couple guys out within a week of my call in the spring to fix my shotty patch job!"
-CT Fang
At Robison Roofing, we are your trusted source for commercial roof repair in Des Moines. We provide fast and professional service for every kind of roof. Our team of professionals is here to service your roof from start to finish; we even provide residential roof repair in Des Moines.
For a free estimate on your next project, call us at 515-882-2200.
Robison Roofing is committed to providing you with the best options for your roof system and design. We approach every roofing project with a focus on functionality, cost, and aesthetics. Each project is handled with unique perspective and integrity. Ingenuity and an eye for solutions make Robison Roofing, a roofing contractor in Des Moines the obvious choice for residential, agricultural, commercial, and industrial roofing systems.